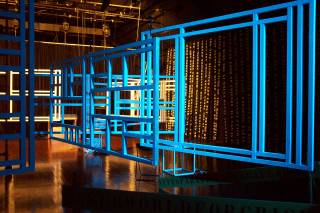 Dear friends,
I believe some of you might be interested in the recently premiered work by Australian artists Ruark Lewis and Rainer Linz. Please have a look at:
Banalities for the Perfect House
http://www.rainerlinz.net/NMA/articles/perfecthouse/
Banalities for the Perfect House is a collaborative installation & performance work premiered at Sydney's Performance Space theatre on Sept 9 2005. The work proposes the house as a condition through which we perceive the world - the city an extension of grid-like structures viewed through the "frame" of an open window.
Performance texts are distilled from everyday sources including newspapers, cookery books, and snippets of overheard conversation. They consist of seven Banalities: Banalities for the Perfect House, Banalities for Napoleon, Banalities for the Modern Kitchen, Banalities for Solid Mandala, Banalities for Newspapers, Banalities for the Times and Misreading Barricades.
The texts are inscribed on all architectural surfaces, and take the form of performance scripts as well. These include cards, looseleaf and bound pages, and word sequences printed on ticker tape.
The sound is performed on five computer terminals and distributed through a 4-loudspeaker sound system. It is performed using real-time computer processing of original vocal samples, in turn derived from the written texts. The computer sound-generating software was purpose-written for the piece.
The performance space is arranged with wooden frames, boards and barriers resembling, in abstract form, a housing construction site. Each surface is rendered with text creating an immersive environment that can literally be read, and heard as speech.
The work is built around a series of duet and solo performances. Each is based on an individual text, which is the common basis for both the computer and vocal renditions.
The Perfect House is a construction site for ideas, with performers and audiences traversing it as if through rooms made from words whose meanings, too, are still under construction.
as posted on
spectre