Zevs art urbain
interview (french)


Zevs is unveiled! There is no denying it, the mysterious 28 year old French graffiti artist, who appears again in public with his face disguised by a leapard-print stocking whose art includes urban performances, targeted tags, and public kidnappings is no longer current. Read the following.


Zevs Perpetual ending (french)

video interview (french)

Zevs
Tout a commencé le 2 avril 2002 à 5h37 à Berlin. Alexander Platz. Un jeune artiste qui passait par là a pris en otage l'image de la femme de l'affiche Lavazza, laissant à la place : « Visual kidnapping pay now ! ».
Zevs, l'artiste ravisseur, envoie une lettre de demande de rançon anonyme à la marque italienne sous cette forme :
« Cher propriétaire, votre image se porte bien. Payez la rançon sinon je procèderai à l'exécution. »
C'est avec horreur que Lavazza reçoit cette demande de 500 000 euros, accompagnée d'un doigt de la victime. Mais le propriétaire ne se laisse pas intimider et porte plainte. La rue a toujours été le théâtre des surprises, aire de jeux urbains, électriques, territoires des poètes et des rêveurs, des activistes et des lutteurs de tous poils. Observation, adrénaline, communication directe avec l'homme de la rue. Ce même homme a ses enfants depuis toujours qui longeant les murs les ont toujours couvert. Pages volantes, pages immenses, ce sont ces pages béton et pierre qui nous donnent la couleur du temps. Issus de la scène graffitis du début des années 90, Zevs, notre homme masqué se démarque vite avec ses kidnapping de pub, ses réappropriations des grands slogans publicitaires, des ombres portées peintes, sur les trottoirs et les murs. Avec ses brilliantes appropriations des elements urbains quelqu'ils soient, il nous donne à re-voir notre environnement quotidien et gris avec humour et poésie.
Rencontre à la galerie Patricia Dorfmann : http://patriciadorfmann.com/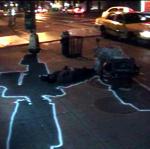 at patricia dorfman
at ecosystem