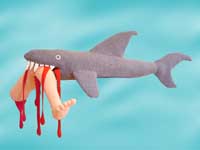 Karlsruhe-based artist, Patricia Waller's work is homogeneous in three ways. Firstly, in its limitation to the material wool and the technique of crochet. Secondly, in the continuity and system of the work. And thirdly, in its concentration on content.

Wool may conjure up an image of gloves and bobble hats or "granny's jumper for winter". Or else of handiwork intended to emphasise the cosiness and security of the parlour. Possibly one also thinks of the kitschy dolls and hats that act as woollen covers for toilet-paper rolls that are decoratively placed on the rear shelf of a car next to the cushion embroidered with the car's number plate.

Patricia Waller, originally a sculptor, changed to "Needle and Thread" while studying art at the State Academy of Fine Arts, Karlsruhe. She aptly entitled one of her wool exhibitions of crocheted wool "Needleworks", thus arousing a good response from the public and expert press alike, although wool is usually considered a material that does not speak to today's virtual age; similarly, crocheting is smirked at as an anachronistic technique. However, Patricia Waller's tongue-in-cheek satire on parochialism, the petty bourgeoisie, and the quest for improvement lives on ambivalent references.
Patricia Waller describes her artistic intention in the following terms: "Wool is often classified as inferior in terms of art and art history. It is not a material of which major works of art are made. We women artists who work with it, reflect our status in art, culture, and society, from this material and method that one can call genuinely feminine."1

Patricia Waller's artistic scope is broad. As a member of the "Institute for the Observation of Alterable Things", she deciphers with a wink inconsistencies that exist on the border between kitsch and art, and unconventionally reports on the Zeitgeist Boulevard with subtle scepticism. She raises existential and ethical issues and is a meticulous master of camouflage with plenty of challenging ideas. As soon as she allows levels of reality to slip, anxieties and traumas emerge behind seemingly banal everyday situations. A sense of violence can be intimated. The ambivalence of things is made apparent by the feature of the material she uses - wool - due to polarities and irritation.

The artist's crochet sculptures are initially disturbing. However, they usually play a double role and are hidden. They are a background system of signs and charades that cannot always be interpreted satisfactorily. But Patricia Waller always ensures that her audience is given visual experiences full of relish and ambition. "With all of my work, I try to create new and different forms of perception and levels of association for the beholder by interventions and altered forms of presentation..." she states. "The irony or the humour contained in the work are most definitely intentional. It is important to me to let the beholder access the work. I consider causing a laugh or a smile as a positive and legitimate means of approach. This of course does not mean that I do not take my work very seriously. I rather view this type of irony as a 'means of seeing through'. Such an approach enables me to enjoy putting my ideas into practice, and makes me see art as a responsible, positive act, rather than an agonising task." 1 More
link: gallery of sculptures
link: english essays
from happy famous artists